Export Vietnam pangasius expects to grow after the second quarter 2023
Datetime:2023-04-28
In the first quarter of this year, Vietnam's pangasius exports brought in $422 million, down 35% over the same period last year. Global food inflation, coupled with a large inventory, caused demand and import prices to decrease, which had a negative impact on export sales of Vietnamese pangasius in many major markets.
The two largest markets, China and the US, both reduced imports of Vietnampangasius. China is down 22% and the US is down 64%. After a deep decline in January 2023, Vietnam's pangasius exports to China increased by 26% in February 2023, partly showing a positive signal from the Chinese market.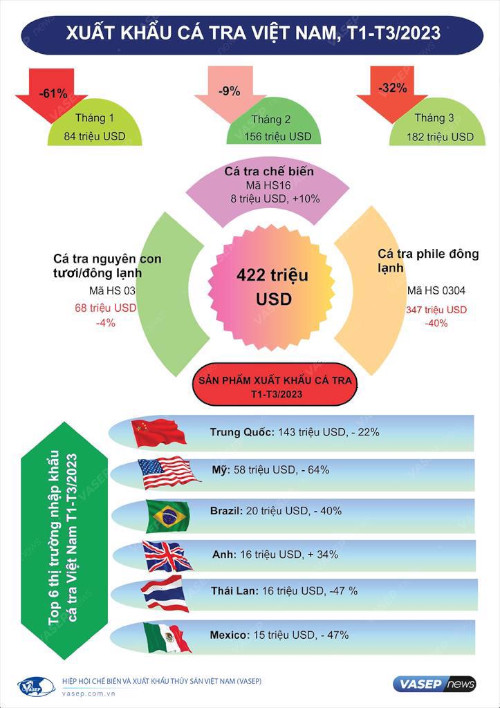 Source: Vasep
Exports to the EU also had a more positive signal thanks to the German market doubling imports of Vietnam pangasius. Meanwhile, the US import market of Vietnam pangasius has not shown any signs of recovery. Many other markets also suffered a deep drop of 12-61%.
In the first quarter of 2023, Vietnam pangasius exports to the EU market reached 45 million USD, down 4% compared to the same period last year (46.7 million USD). Most markets in the EU increased imports of Vietnam pangasius, of which many markets recorded double-digit growth, such as Romania (36%), Sweden (53%), Denmark (34%). Bulgaria (49%). Some smaller markets in Europe recorded positive 3-digit growth such as: Germany (100%), Lithuania (429%), Finland (436%).
In addition to the EU, Vietnam's pangasius export turnover to some other markets in the first quarter of 2023 also recorded positive growth such as: to Singapore reaching $8.7 million, up 35% over the same period last year, to the UK reached 16.2 million USD, up 34%. Although the country has the highest inflation rate among major economies, the UK is still among the few markets that have recorded positive growth in Vietnam's pangasius imports.
In the first quarter of 2023, most pangasius enterprises witnessed negative growth compared to the same period last year. Top 5 largest pangasius exporters including Vinh Hoan, NAVICO, I.D.I Corp, Van Duc Tien Giang, GODACO, accounting for 34.9% of export turnover, all experienced a decrease in sales by 7-43%.
Source: Godaco
The seafood industry in general and Vietnam's pangasius industry in particular face challenges from the end of 2022 due to prolonged inflation and high inventories of retailers. In addition to market difficulties, pangasius processing and exporting enterprises also face difficulties in terms of raw materials, credit and production. Input costs from seed to feed and other costs are constantly increasing, farmers abandon ponds, leading to the risk of shortage of raw materials. Both farmers and export processing enterprises fall into a lack of capital to maintain production and business.
The actual context of the pangasius industry is in dire need of the cooperation and support of the Government and state agencies as well as the consensus of farmers and businesses.
Pangasius exports in the coming time are mainly expected to China, some European countries such as the UK, Germany, Portugal and the Middle East markets. Pangasius exports are expected to recover in the third quarter of 2023, thanks to trade and promotion programs.
Author: Thu Hang | Vasep