Norwegian currency effects resulted in value growth for seafood exports in April
Datetime:2023-05-05
Norway exported NOK 12.9 billion (USD 1209.71 M) worth of seafood in April. This is an increase of NOK 1.6 billion (USD 150.04 M), or 14 per cent, compared to the same month last year.

Photo: Norwegian Seafood Council
"For Norway as a seafood nation, it is positive that the value of export products continues to increase, but the growth in April is solely due to a currency effect. Measured in euros, the export value fell by more than 5 per cent and in dollars by 3.7 per cent. The weak Norwegian krone that is driving the value up", says Christian Chramer, CEO of the Norwegian Seafood Council.
Lowest export volume since 2007
In April, 160,000 tones of seafood were exported from Norway. This is the lowest April export volume since 2007, when exports totalled 125,000 tonnes.
"The downward trend with falling volumes also continued in April. Among other things, this applied to trout, grayling, and several whitefish species, while the volume for salmon is at a standstill compared to the same month last year", explains Christian Chramer.
Value growth to the US and China
Denmark, the USA, and China were the three markets with the greatest growth in value in April.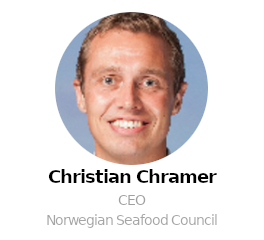 "What they have in common is that salmon is driving up the value. While Denmark is a large processing and transit market, it is consumption that drives growth in the USA and China. For the USA, we see that Norwegian salmon gets good traction from reduced supplies from other producer countries. In China, consumption is increasing strongly after the reopening of society, which Norwegian salmon is benefiting from", says Chramer.
Good season for skrei in Spain
In April, the ice-skating season formally ended. This resulted in volume growth for the quality brand Skrei.
"Despite the fact that both the landings and the exports of fresh whole wild-caught cod are falling, both the share and prices are increasing. This shows that Norwegian skrei has consolidated its position as a premium product. This year we have seen this especially in Spain. Only twice before has the direct export of skrei to Spain been higher than this year", says Chramer.
Aquaculture accounts for 78 per cent of the export value
In April, exports from the aquaculture sector, such as salmon and trout, accounted for 78 per cent of the total value. Only once before has this proportion been higher. That was in August 2016.

Photo: Norwegian Seafood Council
Norwegian seafood exports to 110 countries
The largest markets for Norwegian seafood exports in April were Denmark, Poland, and the USA

Denmark had the largest increase in value in April, with an increase in export value of NOK 414 million, or 41 per cent, compared to the same month last year

The export volume to Denmark ended at 18,383 tonnes, which is 49 per cent lower than the same month last year

Seafood was exported to a total of 110 countries in April. This is the same number as in the same month last year
Source: Norwegian Seafood Council